CHADAR TREK / CHADAR TREK / FROZEN ZANGSKAR RIVER TREK / LADAKH CHADAR TREK
Chadar Trek or Frozen Zangskar River Trek is popular among many tourists visting Ladakh. This route from Padum to Nimo in earlier times used to be one and only surface connnectivity for the people of Zangskar to visit Leh for their emergency travel and also for purchase of daily needed commodities from Leh town. Over the years, this frozen river trek now popularly knowns as Chaddar Trek or Chadar Trek (Ice-sheet walking route) has become popular with tourists seeking adventure of ice in high altitude places like Ladakh and Zangskar. Some oline Chadar Trek organizers are now hooking tourists with cheap offers which results in Mass Tourism Flow leading to spoilling the trekking route with tons of wastes and garbages which the route cannot take in such short seasonal window of 30 days. The local administration is trying their best with the help of LAHDC, Leh, Travel Assocation of Leh like ALTOA and other organizations. In a desperate move in restoring the glory of only Frozen River Ice Sheet Walking route on Zangskar river, now known by the unanimous name CHADAR TREK, the local administration is setting up some regulatories and laws. Unless the route is regulated with much more stricker laws and bolder steps (other than charging a huge Insurance Fees), the Chadar Trek will no more offer the same adventure and experience as it used to in earlier years.
We at Ancient Tracks offer this trekking program to only sellect groups (smaller groups of 4-6 max) with exclusive service to the guests with ealier delivery of information about the fragility of the route and explain our guests the speciality of venturing on such adventure trip. Every guests is supported by 2 porters with an extra helper for the cook and guide with all camping gears exclusively for the our guests. There are companies offering cheap rates in groups who often mismanage the route with fixed Group Canteen Type Kitchens with Maggi, and Dal Bat. Though the offer looks lucrative, but the experience after such group trek on Chadar like route is not always pleasant. These companies normally offer the shortest version of this trip with hardly 4- 4 half days of actual walk and experience. Where as this route is meant for experiencing some part of Zangskari lifestyle and culture with visit to village like Lingshed or Pishu / Pidmo, etc. Due to shortage of time for the trip, often many guests fall sick and had to be rescued. Chadar is also a very risky trek route to tread, unless proper information about the condition of the ice-sheet (Chadar) is read by experts - normally guide or porters from the region. There are records of group of people being consumed by the river due to breakage of the Chadar. As such choosing a local travel company which offers enough time for acclimatization, enough days to alter the program in case of changes (due to ice conditions) and which offers exclusive service for the guests of pre-booked small group is advisable.
We at Ancient Tracks offer Chadar Trek in 11 nights and 12 days as the minimum number of days required to experience this unique Frozen Zangskar River trek in Ladakh. This helps in minimizing the impact on the environment and the fragile route. We organize only wto small groups a season. The window for this trek is only 30-35 days from mid Jan to Mid/ late Feb every season - winter. This time window of trekking on Chadar may vary / postponded or preponded by Nature with changes in temperature and weather conditions.
We suggest every guest planning to visit this Chadar Trek to be really careful and get as much as information about the timing of hardening of the ice well in advance so that your trip is not cancelled due to blockage of this trekking route due to temperature variations.
Day 1: Delhi to Leh(3500m)
Leh is also the western tip of Tibet's Changthang plateau. In term of climate, geology, culture, and religion Tibet and leh are very similar. Being a cold desert – barren mountains hostile to most forms of flora and fauna, Leh isn't the most convenient town to ease into. Overnight at guest house.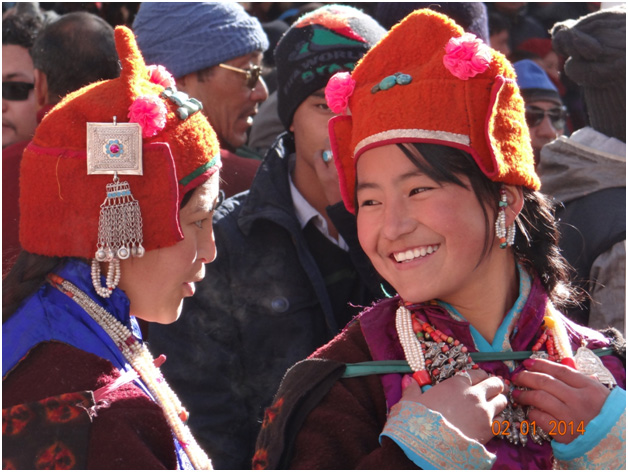 In Zangskari Traditional dress, women at Losar Celebration at Leh.
Day 2: Visit the monasteries in and around Leh, and local sightseeing
We spend the day allowing our bodies to adapt to the high altitude and soak in the local culture. We visit some of the monasteries in and around Leh such as the Shey, Thiksey and Hemis. There is also the option of visiting the old Leh Palace and the Khardung La Pass (world's highest motorable road at 5,600m/18,400ft). overnight at guest house.
Day 3: Drive (4 hrs) to Shingraks (3100m) via Chilling (35550m) trek to Shingraks Gongma 2hrs
In the morning we leave Leh and drive past Nemu, the confluence of Zanskar and Indus rivers. The Zanskar valley is perhaps one of the most remote Himalayan Valleys in India and the true sense of remoteness become more evident as we approach our first camp. Overnight at Camp.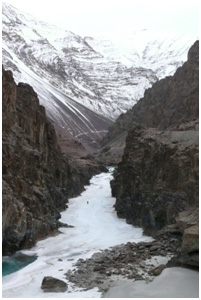 View of Chaddar Trek from above
Day4: Trek to Dibyokma (7 hrs).
The Zanskar gorge is as beautiful and sceneries are great except the harsh temperature. Alas, the gorge can't boast to be in a Hollywood flick, yet. The barren landscape changing colors with the movement of the sun is one of the most rewarding sights in the Himalayas. Overnight at Camp.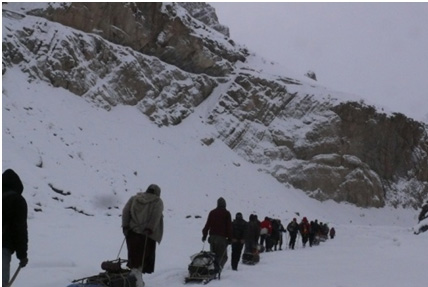 Porters pulling the camping gears on trolley during Chaddar Trek Ladakh.
Day 5: Trek to Nerak Pullu (3390m) 5-6 hrs
We continue walking in the gorge, which is inaccessible in any other season and come across some stunning frozen waterfalls. An old, dilapidated bridge on the river, claimed by the villagers to be more than 1,000 years old, marks Nerak and we leave the river to climb for 10 min to a small campsite. Overnight at Camp.
Nyaraks traditional bridge over Chaddar Trekking Route, Ladakh
Day 6: Trek to Lingshed (6-7 hrs) 3800 m
Today, we continue walking on the river for about an hour before we leave the Zanskar river and follow the Lingshed nala. In the village, we stay with a family in their home. Overnight stay at Lingshed Village in a home stay.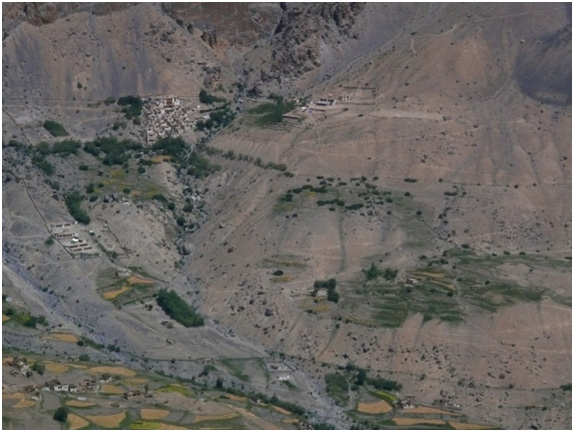 Lingshed Gonpa and villge view from Lamayuru to Padum Trek in Summer.
Day 7: Rest day. Around Lingshed.
Today is a rest day. The more adventurous can visit the Lingshed Monastery, where the monks treat us with tea. Lingshed is one of the most interesting villages of the region which is cut off by any transport means and its stunning monastery overlooking the small beautiful village is a must visit on the day. Overnight at Lingshed village/homestay.
Day 8: Trek to Nerak Pullu
We retrace our step back to the infamous Nerak Pullu. Overnight Camp.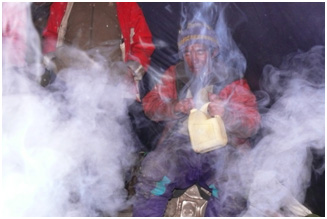 Porters negotiating the early morning freezing temparature on Chaddar Trek.
Day 9: Trek to Dibyokma
Overnight at Camp.
Day 10: Trek to Tilat Sumdo
Today we trek all the way down till Tilat, so that Day 11 is a shorter walking day and we can get back to leh in daylight. If the group is up to it, we can make a short excursion to search for some firewood and have our final bonfire of the trip. Overnight at camp.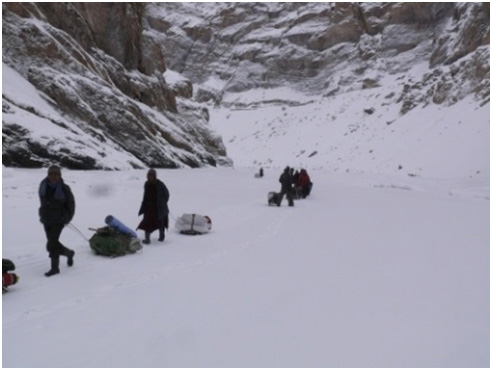 On the Frozen Chaddar during heavy snowfall.
Day 11: Trek to Alam Tilat and later drive to Leh
Day 12: Leh to Delhi
Board the early morning flight back to Delhi. Trip ends!