Ladakh is a high-altitude trekking Paradise in the Indian Himalayas. Nubra Valley to the north of Leh is destination one should not miss on the travel and trekking tour to Ladakh. This trekking Itinerary takes you from Indus Valley across Lasermo La Pass (5400 m) to Nubra Valley to the North of Leh. Lasermo and Parangla Pass treks are few where the trekkers can enjoy trekking on Glaciers at the Passes. Great arial panoramic view of different Ranges from the Top of Lasermo La Pass is highlight of the this trekking route. Besides thre trekking route also covers couple of great Monasteries of Ladakh like Spituk Phyang, Deskit and Sumoor before and after the trek respectively.
This is also a Hard Trek and trekkers with ample trekking experience and enough acclimitization in Leh should be able enjoy it more.
Itinerary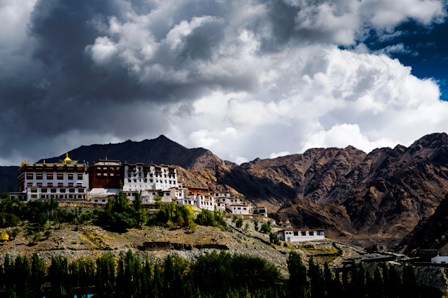 Phyang Gonpa / Monastery before the start of the Trek
Day 01: Leh –Spituk-Phyang-Moruboks- Camp 1 hr
Afterbreakfast drive to Phyang, on the way visit Spituk Monastery and Phyang Monastery on the way. Reaching Moruboks for Lunch. At the camp for acclimatization, may be little walks around the camp. Camp.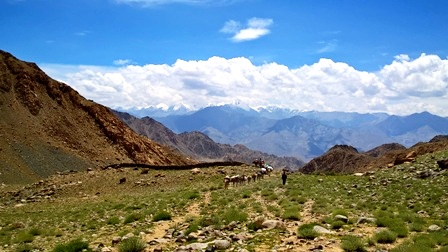 Stok Kangri Range view from Upper Morubogs, Phyang to Hundar Trek
Day 02: Muruboks – Phyang Phu (south base Lhasermo Pass) 5-6 hrs
After breakfast trek up/ascend to Base Camp of Lhasermo La Pass. It is a hard day of ascend trek towards the Pass. Great view of the Stok Range from the trek route if the weather is clear. Camp
Day 03: Phyang Phu - Lhasermo La Pass- Base Camp North 6-7 hrs
After breakfast trek up to cross the Lhasermo La Pass (5400 m) and descend down along the glacier north face of the Pass towards north. Great view of Karakoram Range. Camp Base Camp (north)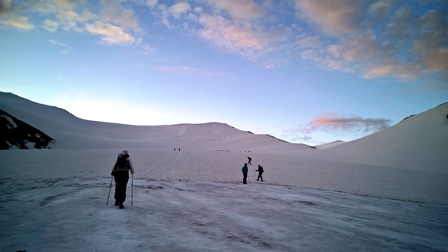 Lasermo La Pass Glacier on Hundar to Phyang Trek
Day 04: Base Camp North – Hundar Dok 5 hrs
After breakfast trek down along the green valley paralling the stream gushing out down to Hundar. Camp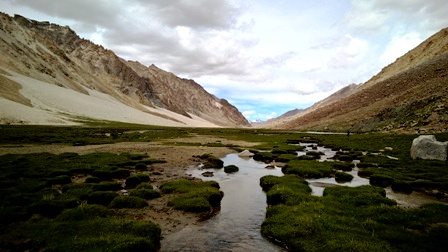 Hundar Dok, on the Phyang to Hundar Trekking route
Day 05: Hundar Dok – Skarchen 5-6 hrs
After breakfast trek down to Skarchen another beautiful camping ground on the trek route.
Camp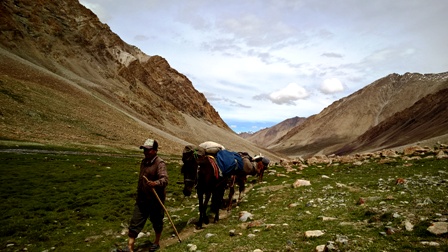 Thang Lasgo Camping area on the trekking route
Day 06: Skarchen- Hundar 4 hrs
After breakfast trek down the gorge to reach lush green Hundar Village of Nubra Valley. Camp
Day 07: Deskit – Sumoor - Leh 6-7 hrs
After breakfast drive to Leh, on the way visit Deskit Monastery and Sumoor / Samstangling Monastery. Cross Khadong La pass and reach Leh. Hotel/Guest House at Leh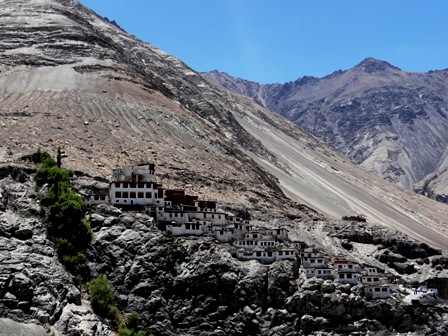 Deskit Gonpa / Monastery atop the Rocky Hill of Deskit, Nubra Valley
Trek ends
Inclusion
Trekking Gears - Kitchen Tent, Cleint Tent (Double/Single), Dinning Tent, Toilet Tent, Kitchen Utensils
Treeking Guide, Cook, helper (for more than 3 pax), Ponies, Pony man.
Camping Fees all along the trekking route
PAP Permit for Nubra Valley
Transportation to the trekking point and from Hundar to Leh
Exclusion
Insurance of any sort
Personal drinks and medicines etc
Entrances to Monasteries
Tips, laundry, etc.