DAY 01 DELHI – LEH
Arrive at Kushok Bakula Rinpochey Airport, Leh. Reception in traditional Ladakhi style and transfer to Hotel. Complete day for acclimatization to high altitude of Ladakh (3500 Mtr above sea level). Meeting with guide /in terpreter and group leader at the Hotel in the evening. Easy walk to the Main Market Leh for orientation (optional). 3*Hotel, Leh.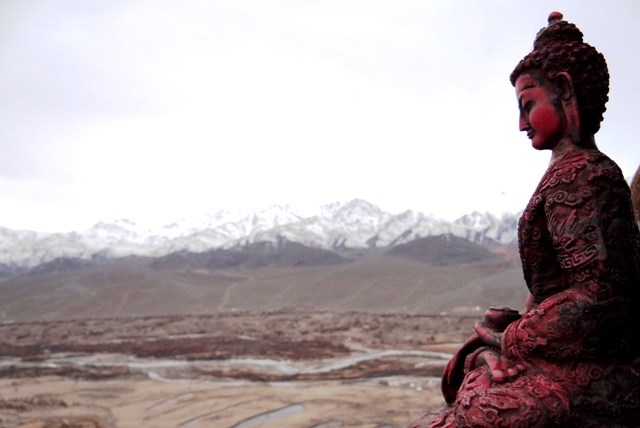 Buddha's Statue facing Indus Valley atop Mahabodhi Sambodhi Retreat Hill
DAY 02 LEH-CHOGLAMSAR-LEH
After breakfast drive to Choglamsar to visit to Mahabodhi International Meditation Centre (8 km / 20 minutes drive one way), meeting a monk Meditation Teacher and Introduction to Samatha Meditation and Foundation of Buddhism. Later visit the Mahabodhi Campus – Sambodhi Milarepa Retreat, Home for Aged people, Monastery and Nunnery. Audience with Ven. Bhikkhu Sanghasena, the founder of Mahabodhi and later visit to the Dalai Lama's Residence or Teaching Place called Jivetsal and short session of Meditation at the site of Kalachakra 2014 in Ladakh. Also visit the Tibetan SOS village (Tibetan Govt. in exile and their projects for the Tibetan children). Meet the Chief Representative Officer (CRO) of His Holiness the Dalai Lama and hear him about Tibetan refugees and their spiritual practices in Leh. 3* Hotel, Leh.
DAY 03 LEH-LIKIR-ALCHI-TINGMOSGANG
After breakfast leave Leh for Tingmonsgang ( 90 km) , one the way visit Likir Monastery, Alchi Temples (1000 year old) popular for its frescos. Likir is one of the earliest founded Gelukpa Monastery in Ladakh and Alchi Temple is taken care of by the monks of Likir. Have a short meditation session in one the few temples at Alchi. In the late afternoon visit the village Amchi Family and hear about Amchi practices from the last Amchi of the family in Tingmosgang. Namra Hotel / Deluxe Camp.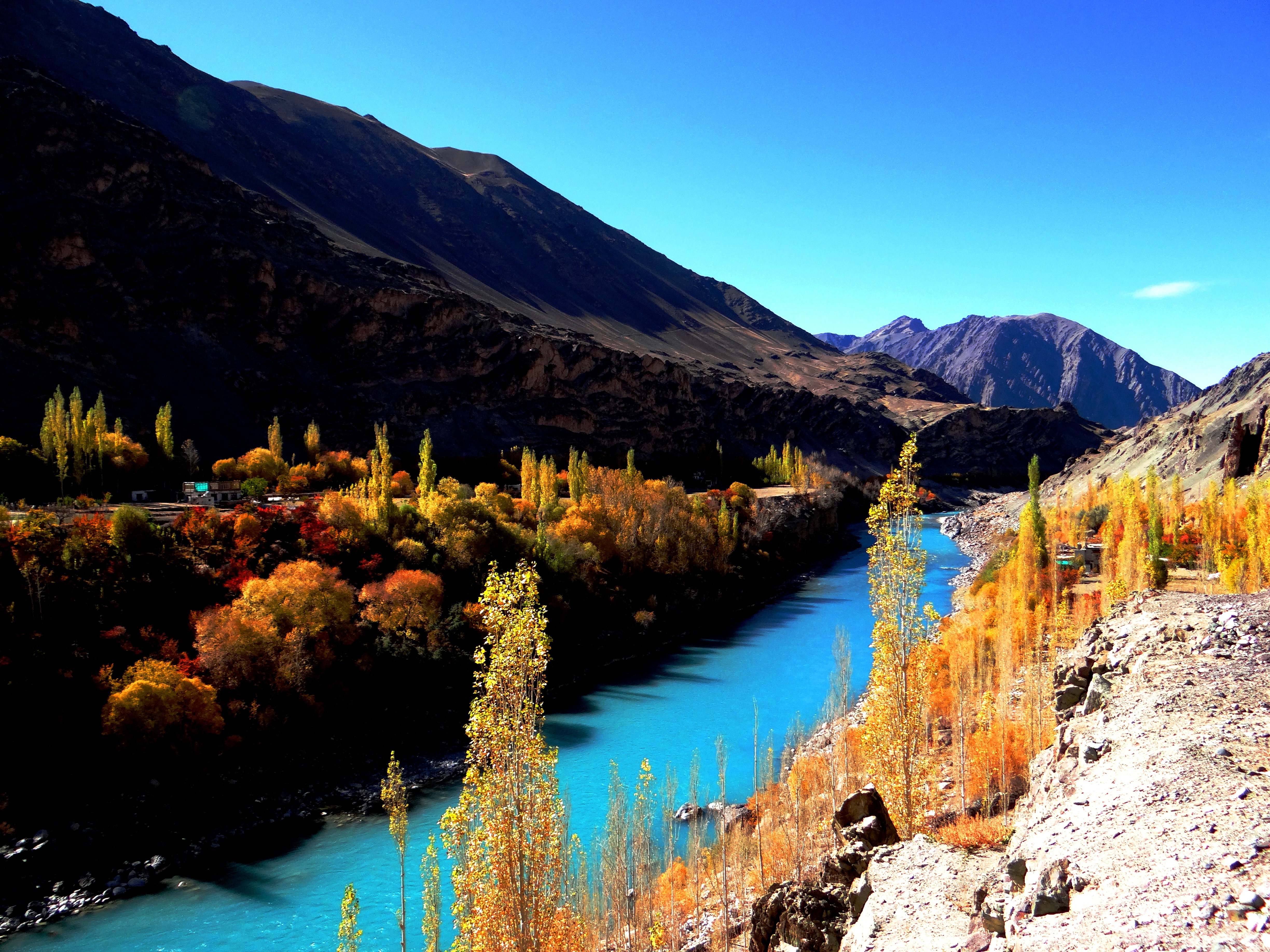 sGera MangyuIndus, River flowing though Sham Valley, Ladakh
DAY 04 TINGMOSGANG-LAMAYURU-ATITSEY-TINGMOSGANG
After breakfast drive to Lamayuru and further to Atitsey Meditation Retreat. Lamayuru is one of the most picturesque Gonpas in Ladakh located beautifully above the village of Yuru. Later visit the Atitsey Meditation Retreat above Lamayuru, in a valley close to Fotu La Pass, which is one of the nice places for group meditation session. Drive back to Tingmosgang. Namra Hotel /Deluxe Camp.
DAY 05 TINGMOSGANG–-LEH-MIMC
Before breakfast visit Maitrey Temple and Tingmosgang Palace atop a beautiful hill right in the centre of twin village of Tia and Tingmosgang. Sit for a session of meditation at the Temple of Avalokiteshvara (Cherazik) or Maitreya Temple. Trek back to Hotel (20 minutes) for breakfast. Later visit the Tinmongsgang Nunnery, interact with the nuns and drive back to Leh, on the way visit Ridzong Gonpa. MGFH, MIMC.
DAY 06 MIMC-TAKTHOK FESTIVAL-YOGI-MIMC
Visit Takthok Gonpa Annual Mask Dance Festival which is full day programme. Since Chemday Gonpa falls on the way, also visit Chemday Gonpa while coming back from Takthok Festival. Vist and get an audience with the Yogi in retreat opposite the Takthok /Sakti Monastery. MGFH, MIMC.
DAY 07 MIMC-THIKSAY-HEMIS-LEH
Early morning visit to Thiksay Gonpa (25 km) to attend the daily morning Puja by the monks of the Monastery. Offer Butter Lamp at Thiksay Monastery. Latter Offering of Butter Tea to the monks and seek blessings and gain merit by offering tea to the monks. Attend the prayer with the monks. Later drive to Hemis Gonpa (47 km) – one of the biggest Gonpas in Ladakh. A short trek of 45 minutes up into the valley above main monastery lead to the Kotsang Meditation Retreat. A short session of Meditation, introspection, comprehensions under the guidance of the Leader. Drive back to Leh. 3*Hotel, Leh.
DAY 08 MIMC- ORACLE-RINPOCHEY AUDIENCE-BONPO TEMPLE-LEH.
After breakfast drive back to Leh, Oracle Residence at Choglamsar and have sessions with lady oracle that answers personal questions as well as heals illnesses related to spirits.
Later drive to visit Tsemo Gonpa, Samakar Gonpa. After Lunch visit the only Small Gonpa belonging to the pre-buddhist shamanic religion of Tibet – Bonpo and have short session of hearing about Bonpo Practice from the Bonpo monk. In the evening drive to visit Rinpoche and have audience with His Eminence Rinpochey and seek his blessings and short session of Teachings on Buddhist Practice in Ladakh. Drive back to Leh. 3* Hotel, Leh.
DAY 09 LEH-KHARDONGLA PASS – SUMOOR, NUBRA VALLEY
After breakfast drive to Nubra Valley across Khardongla pass (highest motorable road at 5600 mtrs). At the top, stop for Prayer Flag hoisting by the group. This is the highest point on the whole journey and the group offers prayer while hoisting prayer flags at the top of the pass. Drive to Sumoor for hot lunch at Deluxe Camp. After Lunch drive/walk to visit Samstanling Gonpa close to the camp. Sit for short session of Meditation. Also drive to Panamik hotspring site and Sand Dunes walk in the evening. Valley Flower Deluxe Camp.
DAY 10 SUMOOR-DESKIT-HUNDAR-PANAMIK-SUMOOR, NUBRA VALLEY
Visit Deskit Gonpa in the morning and attend Morning Puja/prayer by the monks. Deskit a branch of Thiksay Gonpa belonging to the Gelukpa Sect of Tibetan Buddhism (of which H.H. Dalai Lama is the Head). View from the top of the monastery that of the giant Maitrey Buddha by the side facing the whole of Nubra Valley is mesmerizing. Sit for a short session of Meditation in front of the Maitreya Buddha. Later drive to Hundar to visit the Hundar Temple and those wanting to trek/walk a bit, the stretch of bypass walkway along the sand dunes between Deskit and Hundar is great. Drive back to Sumoor for overnight. Valley Flower Deluxe Camp.
DAY 11 SUMOOR-LEH
After breakfast, drive back to Leh. An easy evening at Leh. Walk to the Leh Bazaar for shopping for souvenirs, gifts from Ladakh, etc... 3* Hotel, Leh.
DAY 12 LEH – DELHI
Morning flight to Delhi. End of Tour and services in Ladakh.