Wildlife of Ladakh and Birds of Ladakh
Tsokar Lake in eastern Ladakh in Changthang is one of the hotspots for high altitude birds and mammals of Ladakh in India. Serious birders and wildlife enthuisisits must visit this lake basin for their birding and wildlife experience. Tsokar Wildllife and Birding Tour is a Itinerary specially customized by Ancient Tracks for wildlife enthuisists visiting Ladakh. Tsokar Wetland Complex is now a RAMSAR site (2nd in Ladakh and 42nd in India in 2020).
Birders and Wildlife photoraphers are adviced to bring along with them the following reference books for better understanding of the wildlife of Tsokar Lake basin.
1. Birds of Indian Subcontinent by Tim Inskipp et al
2. Birds and Mammals of Ladakh by Otto Pfister
3. A comprehensive account of BIRDS OF LADAKH : Commentary, Notes and Field Guide by WCBCL, GB Pant Institute and Department of Wildlife Protection, UT Ladakh (2021 Publication with 372 birds species)
4. Field Guide - Birds of Ladakh, Field Guide - Mammals of Ladakh and Field Guide - Flora of Ladakh by WWF and co authors
5. Naturally Wild Ladakh by Tashi Chotak Lonchey


Itinerary
Day 01 Delhi (270 m) to Leh (3500 m)
Arrive at Leh Airport and transfer to hotel/ guest house in Leh. Full morning for acclimatization and rest. In the late evening an easy stroll in Leh Market and meeting with the birding guide. Leh.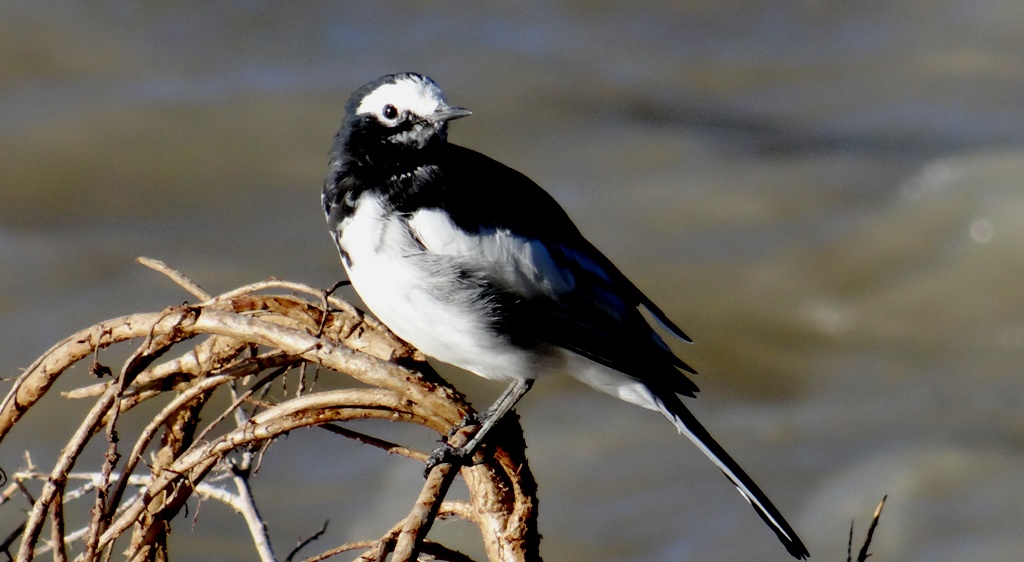 Birding Around Indus Belt- Shey-Thiksay-Spituk Marshes
Day 02 Birding Around Indus Belt
Full Day Birding Around Leh – Indus River Belt from Spituk to Thiksay marshes. Highlights –for Ibisbill, Great cormorant, Black-billed Magpie, Common Rosefinch, Mountain Chiffchaf, Carion Crow, Large-billed Crow, Jack Daw, Redshank, Erasian Golden Oreille, Red-billed Chough, etc.
Day 03 Leh to Tsokar Lake Basin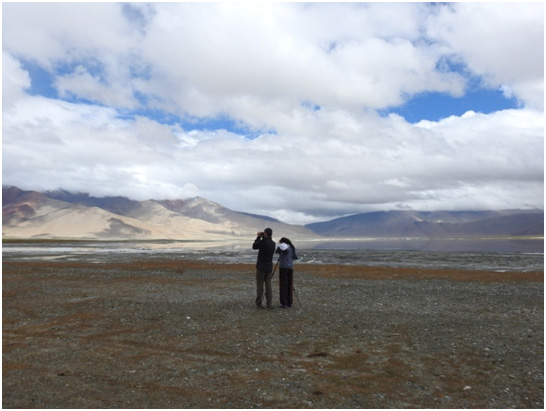 Birding around Tsokar Lake Basin a great birding experience in Ladakh.
After an early breakfast drive to Tsokar lake via Rumtse Valley and Taklang La pass (5330 m). Besides Tsokar Basin, Rumtse and Taklangla areas are also important birding and wildlife sites. You can check the list and look for, Chukars, Brown Dipper, white-capped Redstart, Lammergeier, Golden Eagle, Himalayan Vulture, Saker Falcon, Upland Buzzard, Tibetan Snowcock, Picas, Marmot, Tibetan Wolf, Blue-Sheep and even Ladakh Urial. After breakfast at the Camp / Hotel, birding and Wildlife Tour Around Tsokar Lake Basin . Highlights – Tibetan Argali, Black-necked Crane, Humme's Ground Pecker, Tibetan Sand grouse, Kiang, Little Owl, Great Rose finch, etc.
Day 04 Around Tsokar Lake Basin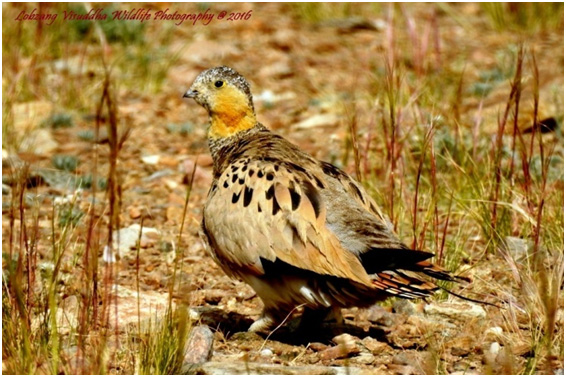 Tibetan Sandgrouse, Tsokar Lake, Ladakh
Full Day Birding Around Around Tsokar Lake Basin. Highlights - Tibetan Argali, Black-necked Crane, Humme's Ground Pecker, Tibetan Sandgrouse, Kiang, Little Owl, Great Rosefinch, etc. and most of the water birds / waders like Bar-headed Geese, Black-tailed Godvit, Sand Ploers, Ruddy Shelduck, Snipe, Pintails, Mallards, etc.
Day 05 Tsokar to Tsomoiri Lake / Korzok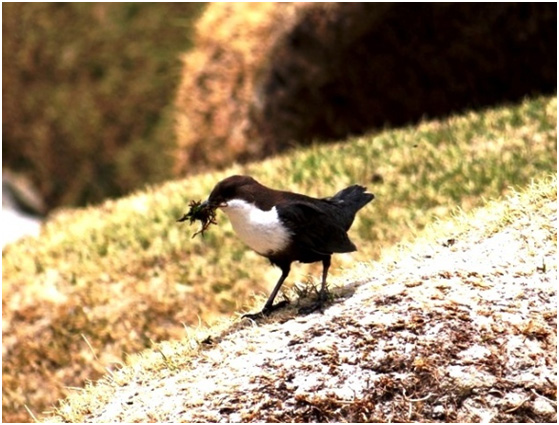 White-throated Dipper, Puga Sumdo, Leh Ladakh.
After an early breakfast drive to Tsomoriri Lake via Polokongka La pass, Puga Valley Hotspring, Sumdo. Puga Valley and surrounding areas are important birding and wildlife sites. Tibetan Snowcock, Black-necked Crane, White-tail Rubythroat, Tibetan Patridges are some of the highlights. You can also spot Tibetan Argali, Tibetan Wolf, beside Redfox and some voles, Marmots and Picas in the mammals species of Ladakh.
Day 06 Tsomoriri to Leh via Chumathang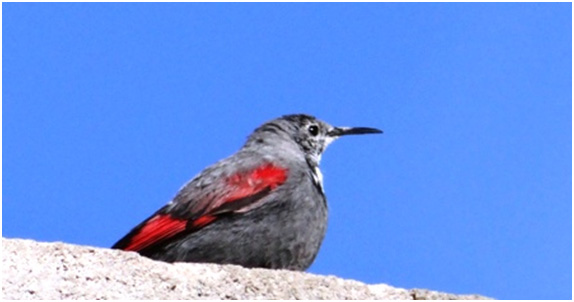 Wall Creeper at Chumathang hotspring, Leh Ladakh
After an early breakfast drive back to Leh via Chumathang (hotspring village) along the Indus. One can also look for Palla's Gull, Wall Creeper, etc. on the way
Day 07 Leh to Delhi
Fly to Delhi with memorable photos of mammals and birds of Ladakh.
Inclusion
Suggested Months of Tour
May- June (Early Summer/Spring) and Sept –Oct (Late summer / Fall)
Important Points:
The Guest should be well aware of the fact that no granted sightings of rare species of birds and mammals can be promised. They should be well aware that for record sightings, they need to have good zoom lenses and cameras and also should have their own binox and if possible spotting scope.
They should also be aware that spotting birds and wildlife in Trans Himalayas meant negotiating high altitude, windy and cold locations and hence should be fully equipped with good clothing for the region like good jackets, hand gloves, etc.
*Anley or Hanle region via Chushul, Tsagala, Rongo and Lal Pahadi need special permission for domestic tourists.
Foreigners cannot visit the above specified destination even with a permit and need prior permission from the Ministry of Home Affairs (MHA), New Delhi. Ancient Tracks cannot procure this special permit for foreigners and the guest themselves have to apply and get it.
Standard Inclusions:
All transfers and travel by Mahidra Xylo Car (maximum 5 person in a car), Hotel / Homestay Accommodation with 3 Meals (Lunch mostly packed), 1 Spotting Scope for the group and 1 Binocular for the group, Assistance of Birding Guide all along the Tour.
What to bring: Warm Clothing for mornings and evenings at high altitude places
Individual Binoculars and Spotting Scopes (not compulsory if you don't own one), Good Zoom, Cameras, Birds of Indian Subcontinent Book,
Booking Confirmation:
Booking of such Birding Tours are considered as confirmed on Receipt of 100% of the Total Tour Cost
Cancellation Policy
100% cancellation applies, once booking is confirmed. Please Note above Rates once booked are completely Non-refundable, Non- Transferable and Non-Changeable.
Terms and Conditions
Rates are subject to change.
Passport should be valid for at-least 6 months from the date of travel
No bookings are confirmed without advance payment
It is not to be construed that accommodation is confirmed at these hotels until and unless we convey the confirmations to you on receipt of your acceptance.
However in the event of any of the above mentioned hotels not becoming available at the time of initiating the reservations, we shall book alternate accommodation at a similar or next best available hotel and shall pass on the difference of rates (supplement/reduction whatever applicable) to you.
Exclusion
Insurance of any sort, Air tickets, Individual Scopes and Binox, Cameras and battery backups, helper to carry camera, etc , personal drinks, etc.