Day 01 Srinagar and Nagin Lake
Arrive at Srinagar Airport and transfer to House Boat at Nagin Lake. Afternoon Birding tours at Nagin Lake and surroundings by Shikhara boat. Little Bittern, Great Bittern, Night Heron, Indian Pond Heron, Little Egret, Great Egret, Pied Kingfisher, White-throated King fisher, Common King fisher, Little Grebe, Indian Oreille, Ashy Drongo, Black-kite, Moorhen, Himalayan bulbul, etc. etc. Nagin Lake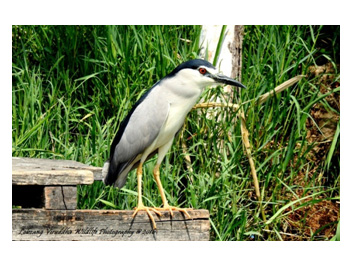 Black-crowned Night Heron, Birding in Ladakh and Kashmir.
Day 02 Full Day Birding Trip to Daichigam National Park.
Highlights- Egyptian Vulture, Eastern Imperial Eagle, Kashmir Flycatcher, Tytler's Leaf-warbler, Orange Bullfinch, Kashmir Nuthatch, Himalayan Griffon, Grandala, Tickell' Leaf Warbler, Red-mantled Rosefinch, Red-fronted Rosefinch, Himalayan Rubythroat, Koklass Pheasant, Himalayan Monal, Streaked Laughingthrush, Variegated Laughing thrush, Long-billed Bush-warbler, Western Crowned Leaf-warbler, Rusty-tail Flycatcher, Fire-capped Tit, Simla Crested Tit, Green-backed Tit, Bar-tailed Treecreeper, Yellow-breasted Greenfinch, Yellow-billed Blue Magpie, etc. House Boat, Nagin Lake.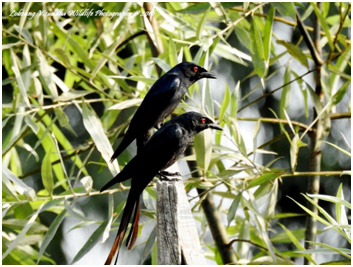 Ashy Drongo, Nagin Lake, Srinagar, Kashmir.
Day 03 Srinagar to Kargil
Drive to Kargil via Zoji La Pass and Drass. Highlights – Brown Bear, etc. Hotel, Kargil
Black-billed Magpie / Eurasian Magpie is an Endemic Birds of Ladakh.
Day04 Kargil to Leh
Drive to Via Lamayuru, Indus Valley. Hightlights – Blue Sheep, Magpie, Chukar, Ladakh Urial, Eurasian Golden Oreille, Magpie, Common Rosefinch, etc. Hotel, Leh
Day 05 Birding Around Indus Belt marshes
Full Day Birding Around Leh – Indus River Belt from Thiksay till Phey. Highlights –for Ibisbill, Great cormorant, Black-billed Magpie, Common Rosefinch, Mountain Chiffchaf, Carion Crow, Large-billed Crow, Jack Daw, Redshank, Erasian Golden Oreille, Red-billed Chough, etc.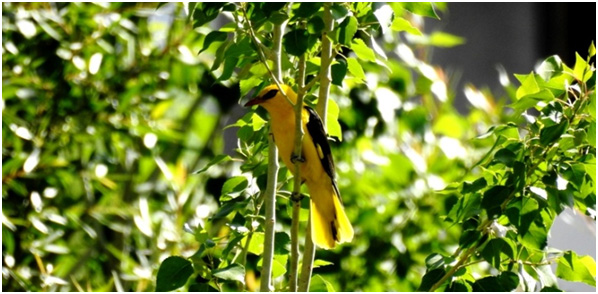 Golden Oriele is one of the summer birds of Ladakh
Day 06 Leh to Nubra Valley
Drive to Nubra Valley across Khardong La Pass – Himalayan Snowcock, Yellow Billed Chough, Little Owl
Day 07 Around Nubra Valley Birding
Full Day Birding in Nubra Valley - Panamik, Sumoor, Deskit and Hundar. Highlight – White-browed Tit Wabler, Scalleybelly woodpecker,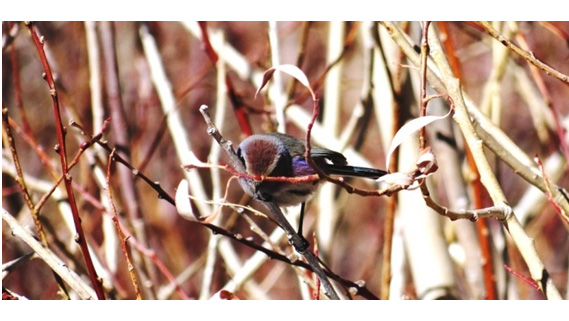 White-browed Tit Warbler can be spotted in Hundar and Panamik, Ladakh.
Day 08 Nubra to Pangong Lake via Shyayok River/Wari La
Drive to Pangong Lake via Wari La Pass / Shayok. Hightlights – Brown-headed Gull, Palla's Gull, Rudy Shelduck, Barheaded Geese, Tern, Goosander, Larks, etc.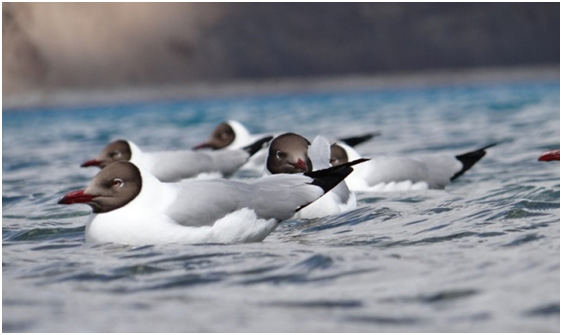 Brown-headed Gull, Pangong Lake, Ladakh.
Day 09 Pangong to Hanle via Chushul and Tsaga la
Drive to Hanley* / Anley via Chushul and Tsagala Pass. Highlight Black-necked Crane, Golden Eagle, Ruddy Shelduck, Barheaded Geese, Common Tern, Northern Pintail, Common Merganser, Black Redstart, Tibetan Sandgrouse, and Tibetan Patridge.
Day 10 Kalak Tartar and back.
Full Day Birding and Wildlife Tour, including Kalak Ter Ter plateau. Highlights – Tibetan Gazzelle, Palla's Cat, Tibetan Wolf, Red Fox, Weasel, Blue Sheep, Woolly Hare, Eurasian Owl. Rudy Shelduck, Golden Eagle, Lesser Sand Plover, Redshank, Greater Spotted Eagle, etc.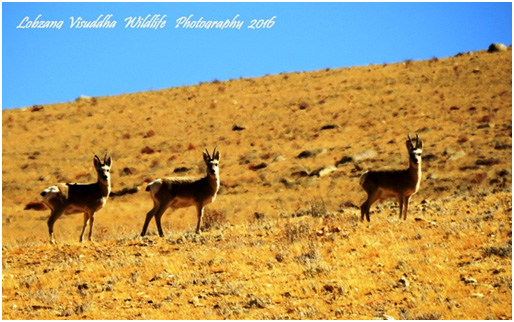 Tibetan Gazelles, Hale is only habitat for Tibetan Gazelle in India
Day 11 Hanle to Tsomorir Lake / Korzok
Drive to Tsomoriri Lake /Korzok Village. Highlights – Accentors, Woolly Hare, Ravin, Wolf, Redfox, Lesser Sand Plover, Black-necked Crane, Feruginous Pochard, River Tern, etc.
Day 12 Tsomorir to Tsokar Lake
Drive to Tsokar via Puga Valley and Polokongka La. Highlight – Tibetan Snowcock, Tibetan Patridge, Himalayan Wolf, Red Fox, Woolly Hare, Himalayan/Tibetan Wolf, Ground Pecker, Rosy Pipit, Pied Avocet, Rudy Shelduck, Lesser Sand Plover, Bar-headed Geese, Terns, Crested Grebe, Great Rosefinch, Streaked Rosefinch, Tibetan Snowfinch, Mongolian Snowfinch, Brandt's Mountainfinch, Plain-backed Snowfinch, Crested Lark, Horned Larked, Black-headed Gull, Brown-headed Gull, Common Chaffinch, Twite, Common Hoopoe, Desert Wheater, Tibetan Sandgrouse, Humme's Wheater, Pied Wheater, Lammergeier / Bearded Vulture, Merlin, Upland Buzzard, Himalayan Griffon, Saker Falcon, Common Teal, Black-tailed Godvit, Mallard, Gadwal, Crested Grebe,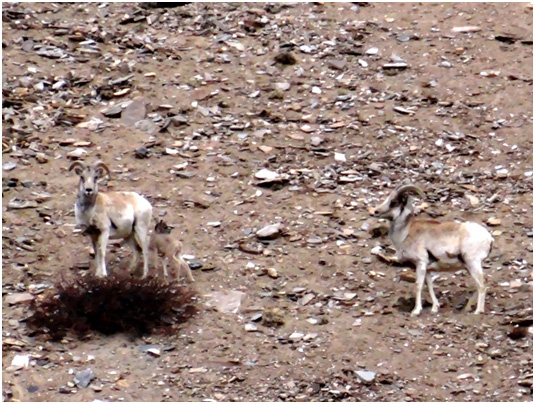 Tibetan Argali (female) with a new born, Tsokar Lake, Ladakh.
Day13 Tsokar Lake Basin
Full Day Birding and Wildlife Tour Around Tsokar Lake Basin . Highlights – Tibetan Argali, Black-necked Crane, Humme's Ground Pecker, Tibetan Sandgrouse, Kiang, Little Owl, Great Rosefinch, etc.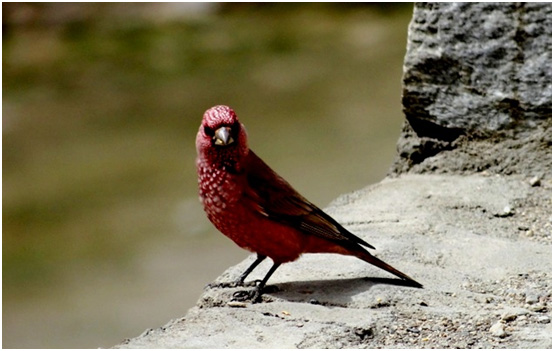 Great Rosefinch, Ladakh
Day 14 Tsokar to Leh
Drive to Leh via Taklang La, Rumtsey Valley. Highlights – Himalayan Griffon, Saker Falcon, Blue-sheep, Tibetan Wolf, Redfox, Tibetan Snowcock, Chukar, White-capped Redstart, Finches, Yellow billed chough, Lammergeier / Bearded Vulture, Golden Eagle, Kestrel, Cuckoo, etc.
Day 15 Leh to Delhi
Airport transfer and Fly to Delhi
Important Points:
The Guest should be well aware of the fact that no granted sightings of rare species of birds and mammals can be promised. They should be well aware that for record sightings, they need to have good zoom lenses and cameras and also should have their own binox and if possible spotting scope.
They should also be aware that spotting birds and wildlife in Trans Himalayas meant negotiating high altitude, windy and cold locations and hence should be fully equipped with good clothing for the region like good jackets, hand gloves, etc.
*Anley or Hanle region via Chushul, Tsagala, Rongo and Lal Pahadi need special permission for domestic tourists.
Foreigners cannot visit the above specified destination even with a permit and need prior permission from the Ministry of Home Affairs (MHA), New Delhi. Ancient Tracks cannot procure this special permit for foreigners and the guest themselves have to apply and get it.